How to get here
---
The Polytechnic Institute of Tomar, Portugal

The IPT offers solutions that cover the most diverse areas of knowledge and constantly seeks to update the program contents according to the needs of the business environment. IPT has a campus in Tomar that welcomes students from the School of Technology of Tomar and the School of Management of Tomar plus in nearby Abrantes, the campus of the School of Technology of Abrantes. All the Schools have a committed faculty, infrastructures, and services directed to the development of studies that enables the graduates' integration in the job market. The modernly equipped laboratories are another of the IPT's stakes, thus allowing a strong relationship with external partners, through the provision of services, providing students to confront real-life situations.
The Conservation and Restoration programme offers a sound cultural, scientific and technological background giving to students a contact on real situations, both in the laboratory and on site. The course aims to train professionals that will be able to access the conservator-restorer profession in accordance with international standards and recommendations in Conservation, in particular, the European Network for Teaching Conservation and Restoration (EnCoRe), which IPT is a member, and the European Confederation of Conservative-Restorers Organisations (ECCO).
By plane (Lisbon):
The International Airport of Lisbon (Humberto Delgado Airport) is located in Portela, 7 km northeast from the city center.
It offers daily flights to major Portuguese cities and overseas. The Lisbon airport is about 130 km from Tomar.
Lisbon Airport (+351) 218 413 500
Lisbon airport to train station (Estação do Oriente): (3 options)
TAXI: from Lisbon Airport take a taxi to Estação do Oriente (circa 10,00€).
BUS: the bus (lines 5 and 44) to Estação do Oriente at Parque das Nações (circa 1,50€, previously bought).
By train:
The railway station in Tomar is located within five minutes' walk from the city center. There are direct connections from Lisbon to Tomar (a 1h30 to 2h trip) but not from cities to the North of Tomar, such as Coimbra, Aveiro or Porto.
If you come from Lisbon airport, take the train at Oriente station in Parque das Nações. There are direct trains to Tomar. The trip to Tomar takes from 1h30 up to 2h depending on the train schedule (one trip: 10,10 € / 11,10 €. Return ticket has a discount price. It needs to be bought at a station ticket office).
If you come from Sá Carneiro airport (Porto, North Portugal), take the train at Campanhã station. You will have to exit at Entroncamento station and take there the connection train to Tomar (ticket prices depend on the type of train travel).
The train service is run by Comboios de Portugal (CP).
For further information on trains, please call: +351 213 185 990
https://www.cp.pt/passageiros/en/train-times
Road Network:
CAR: to access Tomar by car from Lisbon or Porto airports take the

highway/motorway A1 up to Torres Novas exit, continuing through A23 until Tomar exit, so to enter through A13

. Tomar has several points of entry from A13. The most simple ones to exit from A13 are

Tomar Sul exit (for city center) and Tomar Este exit (for IPT)

. If you come from Coimbra, take the

highway/motorway A13 direct to Tomar

and exit on

Tomar Este exit

.
BUS: there are also daily buses (Expresso) from most main cities to Tomar. For further information, please go to http://www.rede-expressos.pt/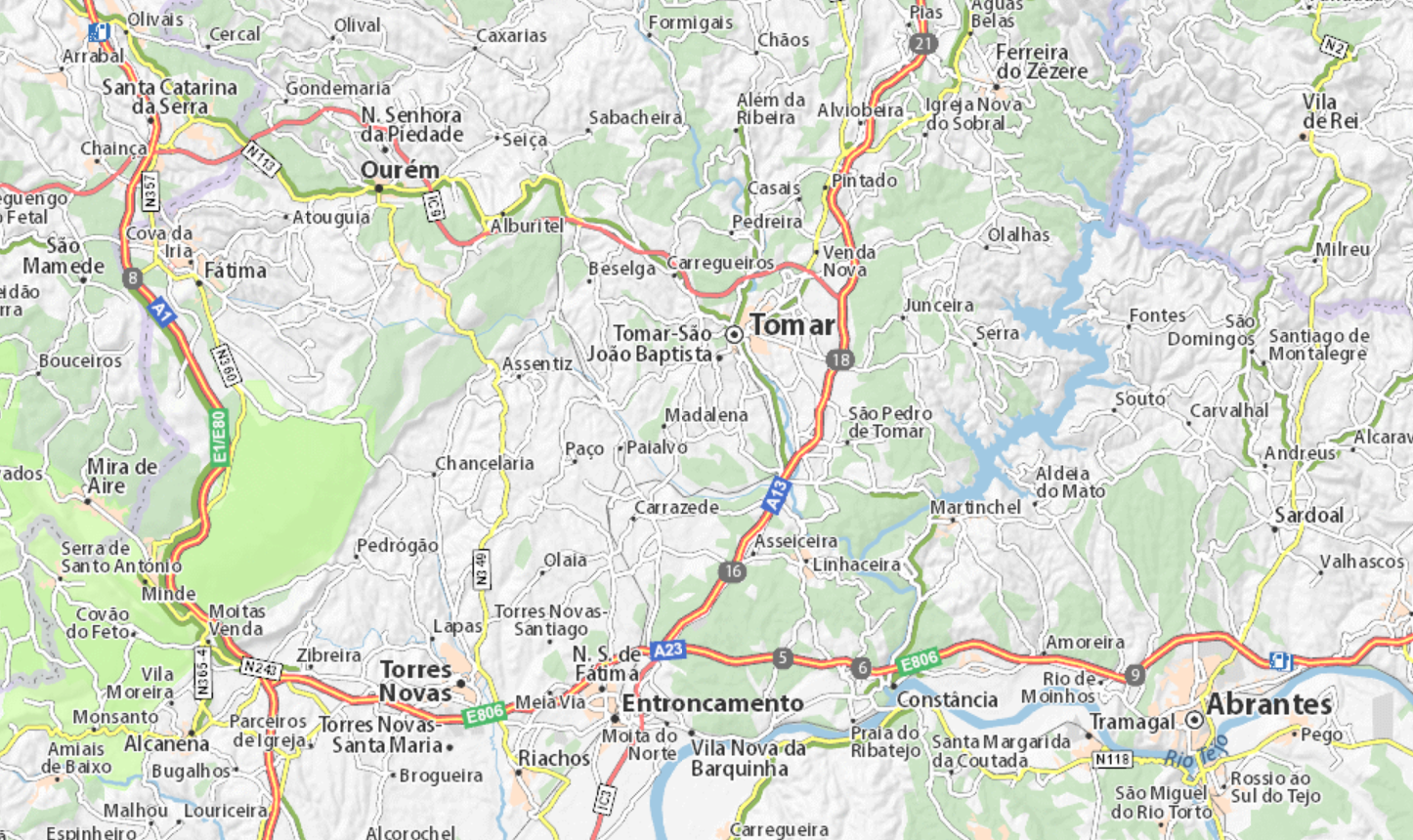 Tomar road network © Via Michelin
To the Polytechnic Institute of Tomar:
Tomar is a small city and you can walk everywhere.
The Polytechnic is outside the city (circa 20 minutes walking distance from the center).
You can also go to the conference by the city bus TUT - Linha Azul (blue line) (1 € / trip).
More at http://www.cm-tomar.pt/index.php/transportes-urbanos#tarifas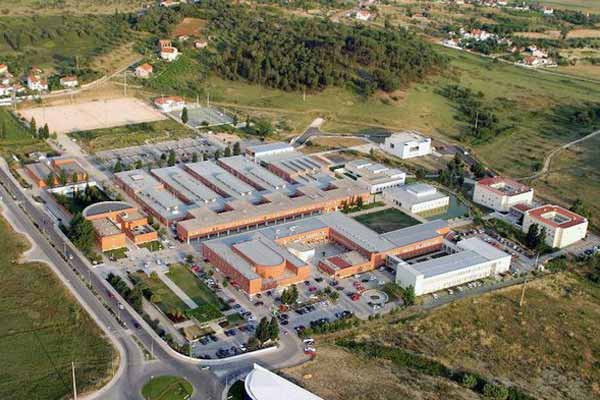 Polytechnic Institute of Tomar, aerial view © RedeRegional