What to visit
---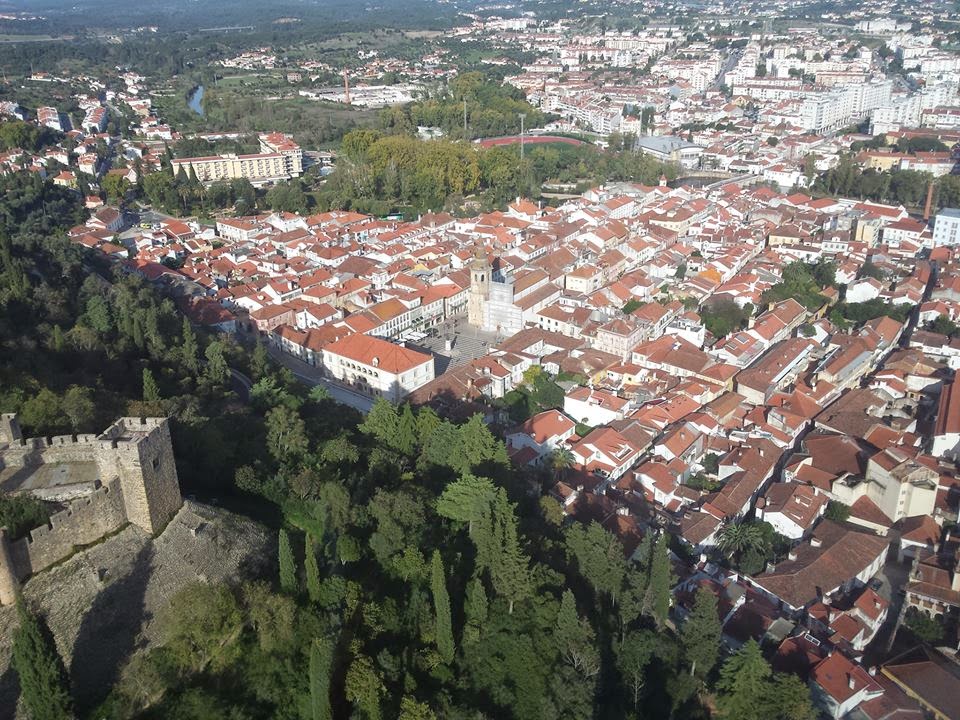 Tomar: Castle, city center and surroundings © José Borga
Former place of the Order of the Knights Templar, Tomar is a city of great charm for its artistic and cultural wealth, whose greatest expression is in the Convent of Christ, one of the main works of the Portuguese Renaissance.
Whatever your reason for visiting the city, climbing up to the Templar Castle and discovering the monumental work of the Convent of Christ is a must. The Charola (Rotunda) is the oldest part of it. This Templar chapel was built in the 12th century, like the castle, which was at the time the Kingdom's most up-to-date and advanced military set-up, inspired by the fortifications of the Holy Land. In the 16th century, it was converted into a chapel during the restoration works ordered by King Manuel I, when the complex gained its architectural splendor, kept intact to this day. In 1983 earned a place at UNESCO's World Heritage List (http://whc.unesco.org/en/list/265)
It is worth visiting the Convent fully, and to discover some of its precious details, such as the depictions on the Renaissance Portal, the unique symbolism of the Manueline Window in the Chapter Hall, the architectural details in the Main Cloister and the spaces connected to Templar rituals. To better understand its history, it is important to know that the Order of the Knights Templar became the Order of Christ, upholding their power, knowledge and wealth in Portugal. The famous Henry the Navigator, mentor of the Discoveries, was one of its most important governors and protectors.
From the Convent, you can walk down through the Sete Montes Woods to the historic center. Halfway along the road, you will see the Nossa Senhora da Conceição Chapel, a small Renaissance jewel by João de Castilho, who also worked in the Convent.
Then you must visit Tomar. The oldest medieval urban area has a cross-shaped layout, orientated along the points of the compass, with a convent at each end. The Praça da República, with its Main Church dedicated to St. John the Baptist, marks its center, with the Castle hill and the Convent of Christ to the west. The city also holds the oldest Synagogue of Portugal, worth visiting too.
The surrounding streets are lined with traditional shops, including the oldest café where delightful local pastries can be appreciated: almond and squash queijadas (cheesecakes), and the traditional Fatias de Tomar (Tomar slices) made with just egg yolks and cooked in a bain-marie in a very special pot, invented by a local tinsmith in the mid-20th century. And do not forget the small Beija-me Depressa (kiss me quickly!) sweet with your coffee or tea!
More at https://www.visitportugal.com/en/node/73772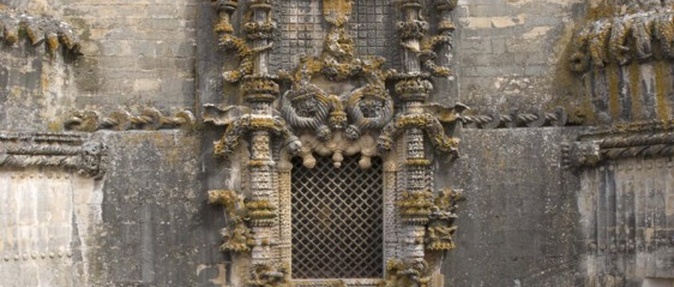 Manueline Window - Convent of Christ © DGPC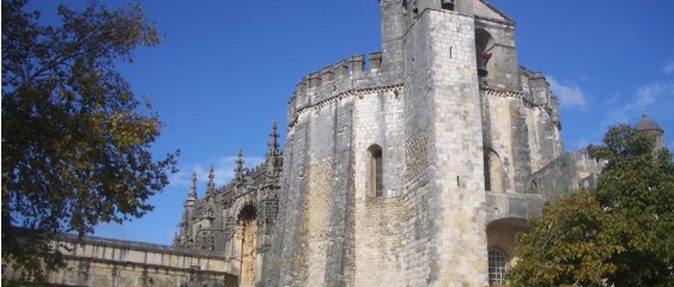 Charola exterior - Convent of Christ © DGPC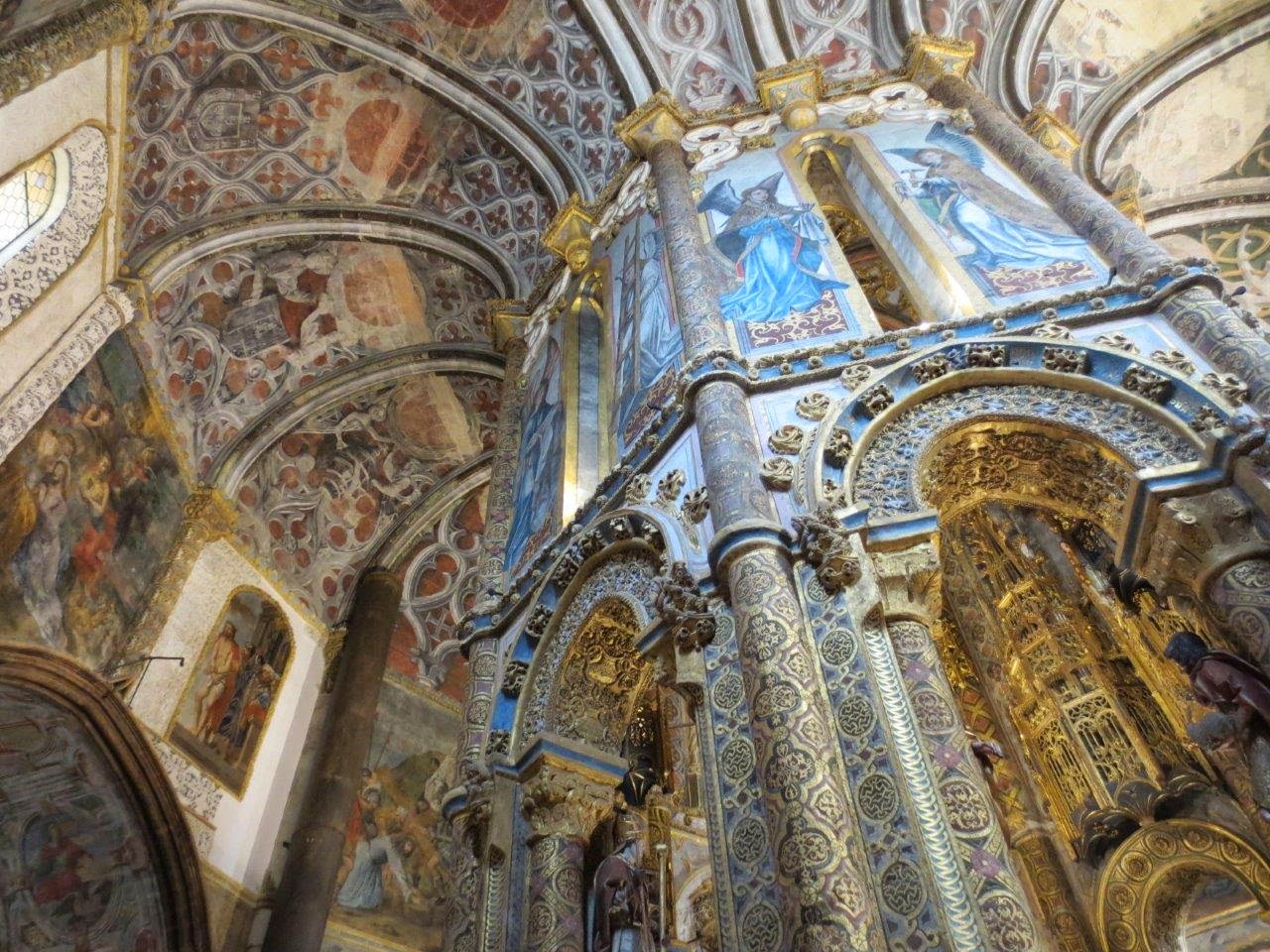 Charola interior - Convent of Christ © UPFC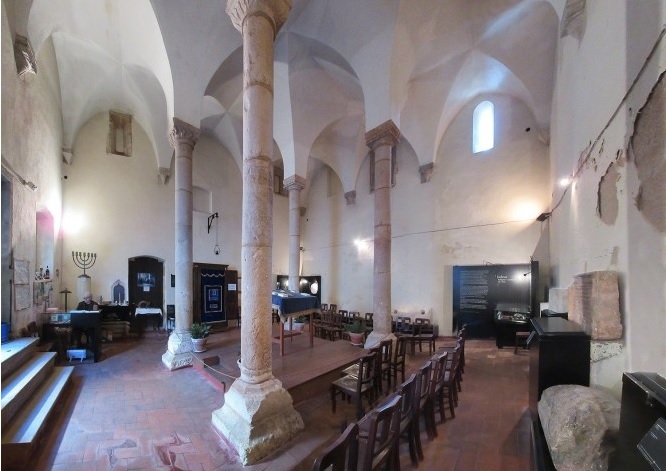 Synagogue of Tomar © TomarNaRede